Roofing Inspection
Replacing an entire roof can be an extremely expensive investment, one that many business owners aren't prepared for unexpectedly. In many cases, a complete roof replacement can be avoided through periodic roof inspections. These inspections are your roof's first line of defense against defects, leaks, and trouble areas; they can improve the overall efficiency and lifespan of your roof; and they can save you a significant amount of money over time.
Skilled. Dedicated. Professional.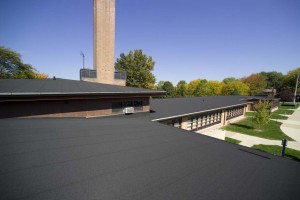 When a highly trained roof inspector from Advanced Roofing Services walks your roof, you can be confident knowing that every inch of your roof will be monitored for obvious deficiencies, hidden failures commonly overlooked by amateurs, and weakness that could turn into future problems. Using extensive photographic and written documentation, our knowledgeable inspectors will create a detailed maintenance plan using our RoofShield© Roof Management Program to help your roof remain as beautiful and functional as possible.
Roof inspectors from Advanced Roofing Services will be looking for a wide list of roofing problems including but not limited to:
Deteriorating or improperly installed flashing
Inadequate past repair work
Debris and standing water
Torn or open membrane seams
Open joints
Empty pitch pockets
Blow-offs resulting from extreme winds
Punctures and perforations
Expertly conducted roof inspections are one of the numerous services that Advanced Roofing Services provides to help maintain a company-client relationship built on honesty, fairness, and trust. We are committed to proving over and over again why we truly are your final roofing solution, one that you can depend on 24 hours a day, seven days a week.