About Advanced Roofing Services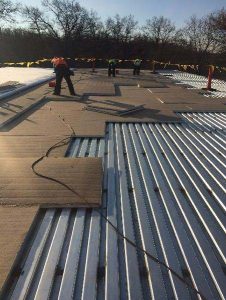 Welcome to Advanced Roofing Services. We proudly serve Toledo, Ohio, the Great Lakes region and beyond with industrial and commercial roofing solutions for a diverse range of flat roof applications. Located just outside of Toledo in Maumee, Ohio, Advanced Roofing Services is a full-service roofing company, combining exceptional, client-focused services with the highest quality products around. Our philosophy of "low volume-high service" continues to drive our success today, just as it did during our beginnings in 1999.
Our consultative approach to every roofing project we commit to allows us to determine the best solutions to meet our clients' needs. From the initial concept meeting to the dedication ceremony, client satisfaction is at the forefront of all we do. We are convinced that the degree of customer-focused service we provide will allow us to be your final roofing solution for years to come.
Roofing Solutions You Can Depend On
At Advanced Roofing Services, our highly qualified team-leaders and roofers have more than 100 years of combined industry experience; we truly do place a high premium on utilizing only the highest quality workers around, as well as the best quality materials to bring your project to completion. We offer: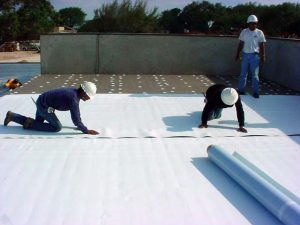 Roof Replacement
Roof Maintenance
Roof Inspections
Roof Leak maintenance
Green Roof Installation
Emergency Response 24/7
Sheet metal fabrication and installation
No matter the need, our experienced roofing specialists have the equipment and capabilities to identify the source issue and provide the optimal solution quickly and efficiently. Give us a call at 419-891-1505 today to learn more about our commercial and roofing services. After a visit to your facility, our highly skilled roof experts can offer you a no cost, no-obligation cost estimate. Let us prove to you that we are your final roofing solution.
Project Spotlight
April 27, 2016
In the spring of 2015, ARS began the roof replacement over building 142 in Cleveland for NASA. The roofing specified was a Fibertite PVC roof system. This project was a special challenge, considering most of the communications from space was located directly under this roof! This project was completed in the fall of 2015.
Read More
View All Projects
Customer Testimonials
We were so pleased with your crew that just finished replacing our roof… They were all very polite and accommodating… We certainly will not hesitate to recommend a quality company such as yours to others that are looking for exceptional roofers.
Kimberly T, Harco Industries
I have absolutely no reservation in recommending Advanced Roofing Services to any organization that would require roofing services provided at the highest level of quality and service.
William S, Mercy Health Partners
Their knowledge of our roofing systems and materials is important in properly repairing the leaks and improving customer satisfaction – and ultimately improving our overall roofing condition and longevity… I look forward to continued successful service from the Advanced Roofing team at BGSU…
Mark D, Bowling Green State University
Affiliations / Credentials